---
Tapolsky & VovKING - The 2nd EP
TECH183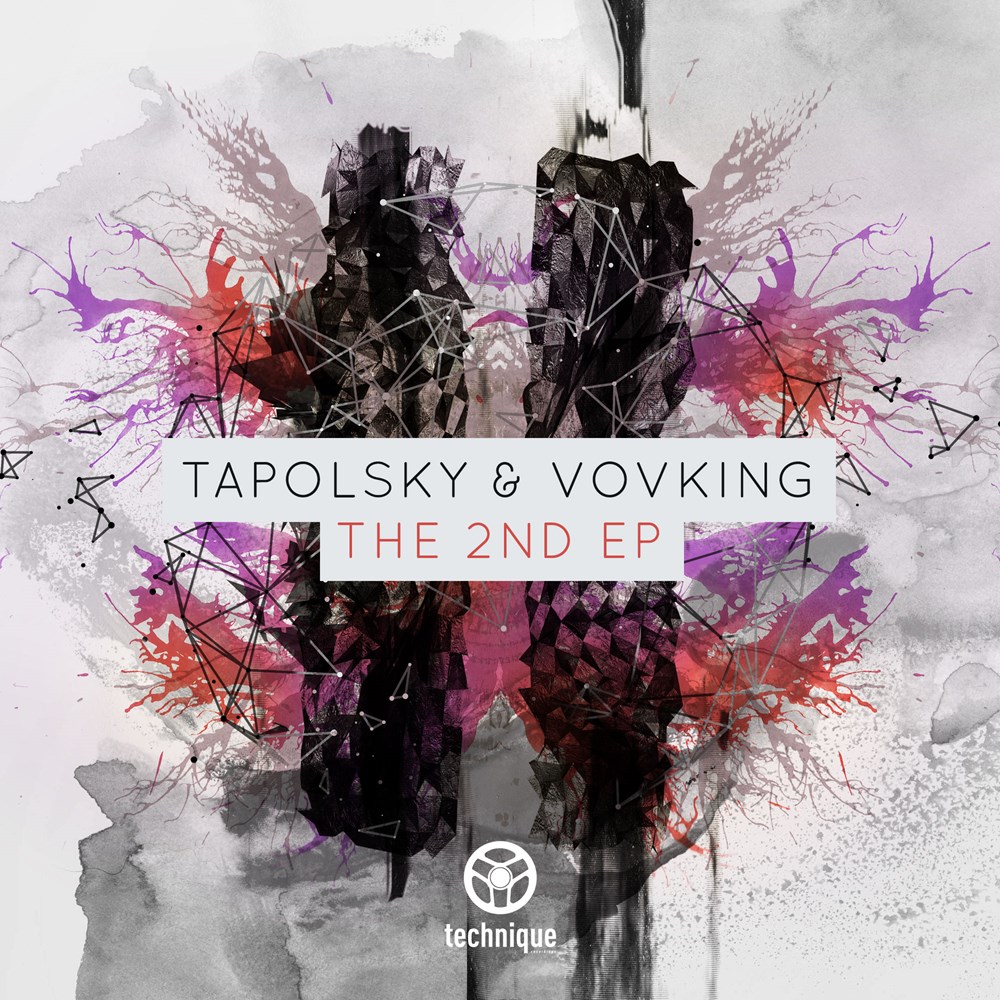 MP3 release
25% discount

£2.25

FLAC release
25% discount

£2.63

WAV release
25% discount

£3.00
---
The first thing that strikes you about Tapolsky & VovKING's new Technique Recordings EP is the title. The name "The 2nd EP" comes pre-loaded with expectations of a next step onwards. And, given that their last EP was the ground-breaking, not-quite-categorisable "Modern Innovations" four-tracker, we could be headed just about anywhere. So, what does the next step sound like?
"Talk to Me" wastes no time in delivering us into Tapolsky & VovKING's strikingly individual sonic world. Euphorically melodic elements contrast with an unsettling glitchiness. And as the tune drops, the stark interplay between bass, drums, and synth-pizzicato is given depth and power by the stuttering and shifting rhythm of the modulations. This is altered state music, suited equally to early-hours raving and headphones-on intimacy.
The contrasts continue in "Cool ID". The piano, plucked bass, and laid-back vocals of the intro seem to promise a simply silky liquid roll out, but we should know by now to expect the unexpected from these two producers. And you don't get much more unexpected than the pitch-bent, twisted, artillery of riffs that they deploy to cut through the atmosphere. Unusual, and at the same time exhilarating, it's a journey we haven't quite been on before.
"Ledra" has its own share of surprises. Soulful chords and vocals immediately set the tone, but the next sixteen bars add some neuro seasoning into the mix. And then the drop offers even more revelations, as portamento and staccato touches of bass bounce off stripped-to-the-bone drums. And Tapolsky & VovKING still have more to show us, as the breakdown reconfigures into a head-nodding half-time section. For the mind as much as the rave, it's yet another highly individual take on the DnB paradigm.
Finally, "Chase You Down" offers one more approach to vocal drum 'n' bass. And this one's all about the rhythmic interplay between the beats and the bassline. Single-syllable lyrics match the off-balance juddering patterns as layers of percussion connects and disengages from the evolving low-end. Elements fall in and out of step with each other adding drama amid the sparseness. This is DnB made without reference to a formula.
To combine technical experimentation with emotion, and still end up with engaging and energising DnB music is an alchemy which eludes many. Tapolsky & VovKING seem to have made that synergy their primary focus, however, and they're quickly building a discography of future-proofed drum 'n' bass science. So, can there be a next step beyond this? If anyone can find it, it's these two guys.
---